Web Talk – A Framework For Web Based Presentations
I recently was given the opportunity to present at a conference. The conference is targeting web developers / designers. I wanted my code (HTML, CSS, and JavaScript) to be functional. It seemed that transitioning between a Power Point deck and code samples was a bit awkward.
I decided to create a web based presentation for my talk. Along the way, I realized that I was creating a framework that could be reused later by me and others. I also has a short conversation with Doug Neiner who offered up some AWESOME suggestions for improvements. After a few iterations, the framework is ready for you to use.
Here are some of the features you get by using the Web Talk framework:
Theme – Use the default theme quickly generate a slide deck.
Style – A number of CSS styles are provided to make it easy to layout slide elements, create overlays, add a border, and much more.
Animations – The framework uses jQuery to provide a number of animations that are common in presentations. Examples include: delayed fade in, a slide show generator, click animations and a spotlight tool for use during the presentation.
For more information lick the image. This will take you to a presentation about Web Talk created with the Web Talk framework. The presentation provides a quick tutorial on how to get started.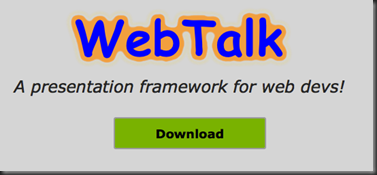 I really want the software to be free and used by anyone under any circumstances. It is released under a dual MIT / GPL license, but if you need another license please ask.
If you have any feedback on improvements, please don't hesitate to contact me.